5 Common WordPress Mistakes to Avoid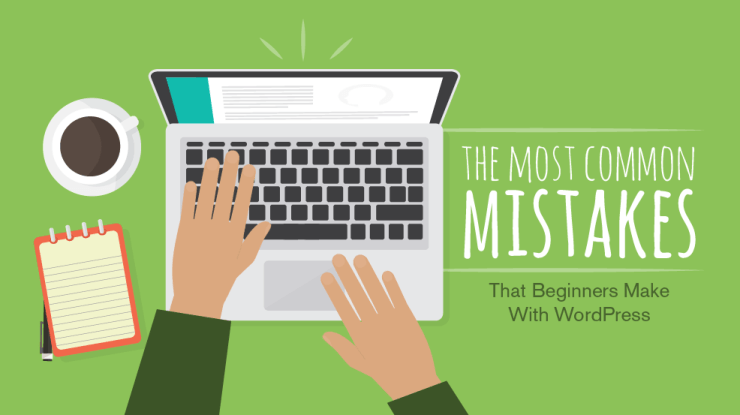 Search Engine Optimization is a critical aspect when it comes to designing a WordPress site. A website which is highly linked, fast and optimized with the right keywords; stands a good chance of ranging well on search engines. SEO mistakes do happen, therefore it would be better to learn from them before the development process. WordPress Mistakes that happen while setting up the platform may affect a website in a number of ways. The most important one being low website rankings. Below are 5 common WordPress mistakes to be avoided while designing a website.
Themes and Plugins with Aggressive Links
These SEO mistakes apply to developers who create WordPress themes and plugins occasionally. It is a common practice to have themes with a credit link in the footer which link to creator's website. This can be a huge mistake for Search Engine Optimization. Adding a credit link to the footer of the theme or anywhere within the plugin, results in appearance of the link in all pages of the WordPress site. This phenomena known as site wide link, promotes site authority. However, the advanced Google algorithm is now capable of detecting unnatural links. This may attract a lot of penalties if the user's plugin or theme appears on thousands of websites and indexed pages.
Installing WordPress on a Sub-domain
Developers should advice their clients about adding a company blog to blog.domain.com. When it comes to SEO, a sub-domain is viewed as a separate domain with its own rating and authority. Creating a new website to be hosted on a sub-domain means that all incoming links don't pass any authority to the sites domain. The best way is to install a site on a sub-directory. This will force the incoming links to pass authority to the site domain. This will improves the sites reputation and increase the number of inbound links faster.
Not Using a Responsive Web Design
A responsive web design is very important in these modern days especially for WordPress websites. This is because users are embracing mobile gadgets. Almost everyone is using a smartphone to browse. A mobile-user friendly website receives more traffic. Developers should come up with themes that are responsive to smartphones, tablets and iPod touch.
Neglecting Speed Requirements
The speed of WordPress installation affects SEO in many ways. Search engines like Google prefer sites which are faster. These are given preference over slower ones according to the ranking algorithm. Users also prefer fast websites. Slow sites are associated with high visitor bounce rate. This forces Google to dock the site. The dependency should be stable for a website to load faster. Light plugins and themes are a solution to loading speeds.
Choosing the Wrong Platform
Before designing a WordPress page, one should decide between the free WordPress.com and a self-hosted platform. Most people make this mistake due to lack of knowledge. WordPress.com is suitable for bloggers who are simply engaged in writing and posting write-ups. The self-hosted WordPress.org is suitable for users who need to have more control over the platform. They can easily manage and optimize the site according to their SEO needs.
Conclusion
These WordPress mistakes have serious implications on SEO rankings on search engines like Google. Websites that load faster attract more traffic resulting into high rankings. A responsive website adopts the configuration of the browsing device. Most people use smart phones to access websites. A responsive website ensures that visitors are able to access all information with ease. Developers should advice against sub-domains to promote site authority. Credited links should also be avoided since they put websites at risk. Avoiding these mistakes during WordPress page development guarantees high SEO performance.