Shopify vs Squarespace – Which One Is Better? Let's Choose!
Shopify vs Squarespace – Which One Is Better? Let's Choose!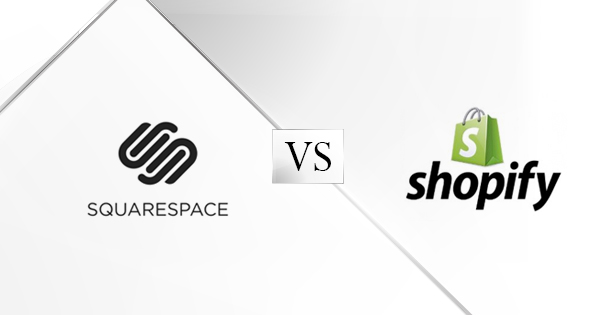 At first glance these two e-commerce sites seem the same. Both guarantee quality service and each of them has the testimonials to back it up. This makes the Shopify vs. Squarespace decision another challenge for the new entrepreneur. On the surface both have attractive User Interfaces and are very easy to use.
In fact even the set-up of each of the applications is quite easy so the differences will only start to show once you start using them. Let us save you the trouble of having to learn through experience. We have compared the areas where the two applications differ and have come up with the following list of.
Shopify vs Squarespace, 10 Factors to Help You Decide
1. Functionality and Ease of Use
Shopify and Squarespace are both very easy to use. Each of the interfaces is also very attractive. They all integrate blog functionality which is today essential for any business operating online. Squarespace is however a bit easier to use as Shopify's drag down features eventually become tiring to the user.
2. Templates and Themes
Shopify gives the user 100 free themes to choose from. All of which are attractive and trendy. While these are great they often make it harder for the user to decide on one. Squarespace on the other hand has only 25 themes to choose from. While this number may seem too small each of the 25 themes is very classy and elegant. Any of them will give your store a superb look.
3. Availability of Applications and Add Ons
Here Shopify definitely wins the Shopify vs Squarespace battle. It has more than 100 applications, add-ons and plugins. Some of these are free and the rest need to be purchased. These applications and add one are either solely owned by Shopify or provided by third parties. Squarespace has only got a few add ons and applications which are available through Google App. This greatly limits the expandability of e-commerce sites based on Squarespace.
4. Payment Options
This is a key factor when selecting an e-commerce platform. Squarespace offers one payment gateway, Stripe. Shopify on the other hand offers 70 options. That is right, 70. This is win for Shopify. It also integrates with POS seamlessly. Shopify offers a POS kit that works on both Android and iOS. It allows you to carry out business in remote stores easily by providing all of the regular services such as scanning bar codes, reading of credit and debit cards and printing of receipts. While Squarespace allows for this feature as well it does not allow the user to print receipts, they can only email them to the client.
Shopify also provides the hardware to carry out the features stated above i.e. bar code scanners, card readers, cash drawers and receipt printers. It also uses an iPad app to read Master and Visa card as well as American Express.
5. Discount Codes and Coupons
At the starter plan level Squarespace allows for the creation of coupons. Shopify does not. However, all the other plans of both of the applications allow the user to create coupons.
6. Inventory Management Capacity
These change depending on the plan you use. The Squarespace starter/Personal plan allows you to sell and stock one product on your store. If you choose either Business or Professional plan you are allowed to stock an unlimited variety of goods at your store. Shopify on the other hand allows you to sell 25 products in the starter/Lite plan. The other 3 plans allow you to stock as many products as you want.
7. SEO Capability
Both of these soft-wares have top notch SEO capability. Shopify is however ranked higher than most of the e-commerce platforms in the market. While Squarespace does not have the strongest SEO features it does allow social integration. This allows your shop to maintain a strong presence on social media such as Facebook and Twitter.
8. Customer Support
While you are great at running a business chances are that your IT know how is not as great. Due to this it is important to have a reliable support team to help you run your site. You need to be able to fix problems immediately as the may prevent a customer from making a purchase causing you to lose money. In the Shopify vs Squarespace debate this is definitely a deal breaker.
So Shopify wins this round because it offers 24/7 customer support through phone, live chats and email. The cost of customer support is included in the monthly payment plan. There is also a team of experts who can help you with anything from the set up to running social media campaigns. Squarespace only offers customer support via Live Chat from 3am to 8pm.
9. Customization
Customization helps add a personal touch to the shop while also communicating your unique brand to your customers. Both Shopify and Squarespace give a lot of room for customization. In both you can use the General User Interface (GUI) to change the site's color and fonts.
Shopify allows the shop owner to change both the HTML and CSS code through the Advanced Level Interface. Squarespace only allows you to change the CSS code but it also has a wide variety of styling options on each of its themes.
10. Pricing
Both of the software's plans offer great value for money. Shopify is however more expensive than Squarespace. Here are the payment plans:
Squarespace
Personal Plan: $8/month billed annually or $12/month billed monthly
Professional Plan: $16/month billed annually or $26/month billed monthly
Business Plan: $24/month billed annually or $36/month billed monthly
Shopify
Lite Plan: $9 per month
Basic Plan: $29 per month
Professional Plan: $79 per month
Advanced Plan: $299 per month
Both of the services do not charge bandwidth costs. Squarespace does not charge any transaction costs. You will only incur Stripe transaction fees which are 2.9% + $0.30 for every transaction. Shopify does not charge any transaction fees for any of its gateways.
The do however charge transaction fees for all third party payment options. These are 2% for the Lite and Basic Plans. Professional Plan members are charged 1% while Advanced Plan members pay 0.5% in transaction fees.
Based on the factors above Shopify wins the Shopify vs Squarespace debate. Its features are more superior in terms of themes, add ons, payment options, inventory management, customization, SEO and customer support.
These great benefits make it better choice than Squarespace anyway regardless of its higher pricing. We hope that this information has been useful. In case of any questions or comments feel free to talk to us. Thank you for reading our Shopify vs Squarespace debate, we wish you have a wonderful day.