Squarespace vs Wix: A Comparison For Your Site Customization Needs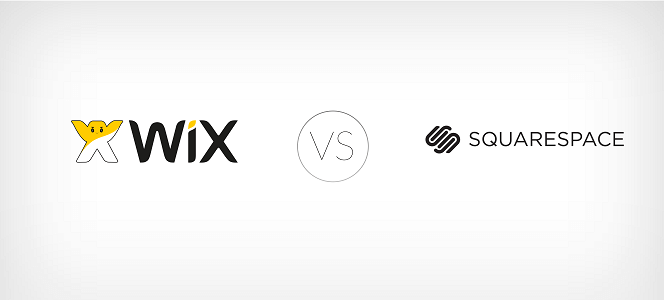 Whenever we want to build a new website, the first dilemma that we face is which website builder should we use. Wix is not only the easiest but also a really well-known website builder out there. "Squarespace vs Wix, which will be the better option for my website?". If you're reading this article, you're probably facing this dilemma. We intend to help you decide with this comparison.
Now we will compare both Squarespace and Wix on factors that matter the most. Be assured that information provided here is highly accurate and have been included only after thorough research and analysis.
1. User Friendliness
• Wix
Wix is hands down, more user-friendly. The awesome control panel is very easy to understand and use, the panel feels like that you have used it for years. It's pleases the eyes and it's really well organised. It just feels right working with it.
A website can easily be customized in the WYSIWYG editing environment. It is very simple, you just drag the widgets and design elements to the canvas. But this approach does come with a major drawback, your website's theme can not be changed in the future.
The theme can be remodeled as you wish, but there's no option to choose a new design. The only option in this case would be to build a fresh new website.
Wix's control panel has been divided into two different areas:
• Dashboard
• Editor
The editor helps you create a new website whereas the dashboard lets you manage and maintain the websites that you've already created.
The latest update of Wix editor was introduced in 2016, which made the tedious process of website building even easier. The editor was redesigned completely and now allows us to build long pages with easier navigation, which can be credited to the new Strips Layout function added in and video backgrounds on full screens, The new editor allows us to give a whole new depth to our website.
• Squarespace
Squarespace used to have a lot more pain points that made it a bit less user-friendly. Squarespace Seven, which is the latest version of the Squarespace website builder, is much easier to use. But, it is still inferior compared to the website builder of Wix.
• Squarespace vs Wix
Wix wins this round without a doubt. Squarespace may have a much more stylish and polished look, but it can't beat Wix when it comes to user friendliness.
2. Flexibility and Features
• Wix
Let's say, you want to create a whole website in one sitting without code skills, then Wix is the best option. It's got so many tools to build a website of any kind: corporate websites, eCommerce websites, blogs and much more.
Most of those wix features can be enabled from the control panel. As for the others features, which are offered as 3rd-party extensions, are hosted at the wixapp markets and can be acquired from there. Some of the sample apps you can find from the market are:
• Site Search
• Form Builder
• Customer Reviews
• Forms that allow signing up for newsletters
• Booking for appointments.
and much more.
• Squarespace
Squarespace is also pretty rich when it comes to features. Its features set looks and feel more compact because it has no application market associated with it. Rather on focusing on the common features of these builders, let's focus on what makes them different
• Multiple access levels feature is supported by Squarespace: Squarespace allows us to add multiple contributors like content editors, comment moderators and administrators.
• Export and Import: Squarespace allows us to easily import content from Tumblr, Blogger. WordPress etc while it also allows e-retailers to import their content from Shopify and BigCartel. Your Squarespace site content can also be exported to WordPress very easily.
• Squarespace offers some native dev tools which allow you to crack open the code and change everything you want, allowing more freedom.
• Squarespace has Android and IOS apps that allow management of your site from anywhere.
• Squarespace vs Wix
Although Squarespace seems to be the clear winner when it comes to flexibility, it's not, in fact. While Squarespace allows the complete rebuilding of your website very professionally, keeping the architecture of your site clean, it has nowhere near features when compared to Wix.
Wix is a pretty great option for personal blogs, portfolio websites and business websites. If you're satisfied with the features offered by Wix, you will probably won't need the extra features that are provided by Squarespace.
3. Designs
• Wix
A great collection of templates is offered by Wix, there's something for everyone! They are all professional, diverse and fresh. Unfortunately, as stated earlier, there is no option to switch Wix templates after selecting one. Although, you can easily create another site with a new template. Also, Wix doesn't allow any custom CSS application.
A very easy to use mobile editor is offered by Wix that allows you to fine tune and optimize the view of your website for mobile users.
• Squarespace
Squarespace templates for websites feature refined fonts, minimal layouts and rich imagery. Although one may find their templates a bit monotonous. It allows custom application of CSS to any of the templates.
Squarespace also offers mobile view. Every one of the Squarespace templates has been designed with multi-screens in mind. They are all pretty responsive. However, the user is not allowed to edit mobile view.
• Squarespace vs Wix
Squarespace designs are more customizable while the Wix designs are much more diverse. Wix offers a built-in mobile editor and Squarespace does not. Wix is the clear winner when it comes to designs.
4. Customer Support
• Squarespace
Premium help is offered by Squarespace complete with live chat, email support and tutorials.
• Wix
Each element which is editable has a small interrogative sign which can be clicked to get more information about the option. An extensive help centre is also offered by Wix complete with how-to tutorials, forum and videos.
• Squarespace vs Wix
Enough help is offered by both builders, but Wix will feel more user-friendly to users because of their strong help engine which is built-in.
5. Pricing
• Wix has a large variety of options from a free version to Premium packages ranging between $4.5/mo and $24.5/mo.
• Squarespace has no free plans at all. It only has a free trial of 14 days. Paid packages lie between 12$/mo and $46/mo. The main difference between different packages being additional features etc.
• Squarespace vs Wix
One can get a free website with Wix for a lifetime if they don't mind using a subdomain and displaying their price. That's not possible with Squarespace. Both builders offer a fair amount of features for their price point.
6. Conclusion
It pretty much all comes down to personal preference. Someone who wants a hassle free experience and a free website would prefer Wix whereas someone wanting a bit more customization freedom and functionality would lean more towards Squarespace.